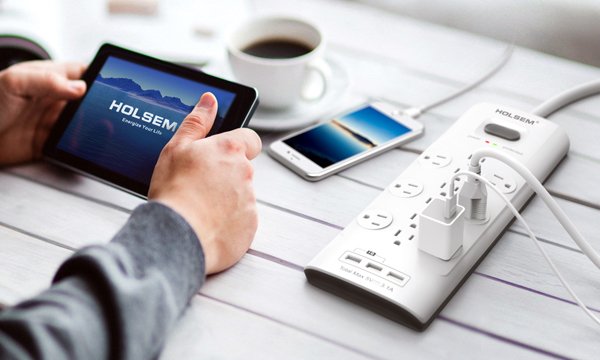 The market of Surge Protectors is quite vast as many people use them in everyday life and it makes sense to do so. That's because they provide us with lots of AC Outlets that are able to give us more powering options for our appliances and you can have many of your appliances plugged in at the same time, rather than just relying on two wall AC Outlets. That said, Surge Protectors have gone beyond than just their practical use, as they have different form factors, they use USB charging ports and many of them have more than just your usual amount of AC Outlets that we're accustomed to.
This HOLSEM Surge protector is one of those Surge Protectors that goes further than just your average one with its amount of AC Outlets and its use of USB charging ports that can be helpful for charging your smartphone or tablets.
Power

Output Charging:
AC Outlets:
There are a total of 12 AC Outlets, yes, you read that right. You can potentially plugin a total of 12 appliances into this Surge Protector and have them all powered on at once. That said, the max powering limits for this HOLSEM power strip is 1875W which is still a lot of power but you just want to be sure that you're not plugging in higher wattage appliances at the same time and using them at their max power. Such as having a heater and a blender plugged in at the same time which are two high power appliances may be something that could cause the Surge Protector to shut off.
Of course, that doesn't pose a real problem as it has safety protections that turn it off automatically to prevent anything from getting damaged. Ultimately, you're not going to have any shortage of AC Outlets with this Surge Protector.
USB Charging Ports:
There are a total of three USB ports and they're quite powerful.
Two of the USB ports have a charging speed of 5V/3.1A or at least, they're capable of outputting that much power depending on what device you're charging. The third USB port has a charging speed of 5V/1.0A and you're definitely going to use that one with devices that you don't mind charging at a slower rate.
The use of three charging ports with a Surge Protector is basically the same as implementing a 3-Port USB wall charger with the power strip. It totally removes the need to use a USB wall charger with the Surge Protector and a result, you don't have to use an AC Outlet with it. Charging power with two of the three USB ports is also very good as it's more than just the average 5V/2.4A that most USB ports on wall chargers have.
Design
Size and Weight:
The dimensions of this Surge Protector are what you'd expect from just any other Surge Protector on the market as it doesn't take any chances with different form factors such as being vertical or round. However, with its use of twelve outlets, it's quite wide and it does have a bit of weight to it. Overall, it doesn't matter too much as Surge Protectors are mainly meant to just stay in a single place.
It has a length of 12.9 inches, a width of 4.7 inches and a thickness of 1.4 inches. The weight of this HOLSEM Surge Protector is 2.6 pounds. It'll take a good amount of space up on a table if that's where you decide to place it, or you can just place it on the floor. Better, yet, you can actually hang it from a wall as it has hooks at the back that allow you to place it on a wall.
Functional Components:
Functional parts on this Surge Protector are limited as most of it is on the front of the Surge Protector. There are three AC Outlets to right and left and then in the middle is where there are six more of the AC Outlets. The spacing between the outlets to the right and left is very good, but when it comes to middle outlets, there is potential that you're going to end up covered surrounding outlets if you're plugging in something like a power-brick or possibly USB wall chargers.
The three USB charging ports are at one end of the Surge Protector and the three of them are lined up horizontally, with two of them labeled to have 5V/3.1A and the other one not labeled to have that charging speed to make it clear what ports are better to use.
At the other end of the Surge Protector is where there's the power switch for the Surge Protector and it's where you'll find two lights. One is a Red light that's labeled as "Power" and the other one is a Greenlight that shows that the Surge Protector is "Protected". It's nice to have a power switch with a Surge Protector so you don't have to worry about unplugging it.
Build
Structure and Material:
Build quality of this HOLSEM Surge Protector is something that was done very well. The components of the Surge Protector feel very premium as AC Outlets are able to hold onto appliances quite strongly and the same is true for the USB ports. It's made of a flame-resistant material that's actually able to withstand temperatures of 1,380 Fahrenheit. Also, the power cord is one of the best that we've ever used with a Surge Protector, as it's a 14AWG cord that's very thick and it would take some major flexing, beyond what you'd normally do to even begin causing damage to it.
Also, the power cord is UL listed, and that definitely gives merit to the build quality of it.
Tech:
On the tech side, this Surge Protector is able to act accordingly if you ever do overload it with power, as it'll automatically turn off because it has a circuit breaker. As a result, that'll prevent it from harming your devices and the Surge Protector itself.
Reliability
Surge Protectors are meant to be reliable and this one definitely is with its abundance of AC Outlets and use of three USB charging ports. The only unreliable part that we found is that it has its AC Outlets very close together and therefore you can cover surrounding AC Outlets.
Summary:
Power:
There's a lot of power to go around with its 1875W of power. That said, along with its power output, it comes with 12 AC Outlets and even though it's a great thing, you can still over-step the limit of power that you can use. The use of three USB charging ports is very welcoming and two of the three ports are very powerful as they have an output of 5V/3.1A.
Design:
It's a wide Surge Protector that's easy to use with everything in plain sight. The AC Outlets could be further apart so you won't be covering surrounding AC Outlets but it's still quite good. The use of a power switch is convenient.
Build:
Build quality is strong and the power strip will actually automatically turn off if you go over its powering capabilities. Also, its power cord is heavy duty and is UL certified.
Reliability:
It's a very reliable Surge Protector with its 12 AC Outlets and three USB charging ports.
Specs of the HOLSEM Surge Protector Power Strip:
AC Outlets: 15A | 100 – 125V – 60Hz | 1875W
USB Ports:
USB 1: 5V/3.1A
USB 2: 5V/3.1A
USB 3: 5V/1.0A
AC Input: 100-125V
Type-C: No

LED Power Indicator: Has a Power Switch Indicator

Size: 12.9 x 4.7 x 1.4 inches

Weight: 2.6 Pounds
Conclusion:
Surge Protectors are reaching their epitome and this Surge Protector is proof of that. It has lots of AC Outlets and still manages to implement USB charging ports. Power output is plentiful and the build quality doesn't suffer even with all of its superb powering capabilities.