HOLSEM Power Strip Surge Protectors--Beyond Your Expectation
Views: 31 Author: HOLSEM Publish Time: 2017-12-04 Origin: HOLSEM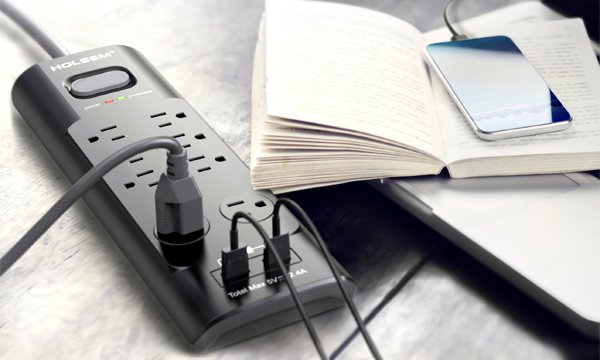 HOLSEM Power Strip Surge Protectors are of high quality (FCC and ETL listed), made of premium materials, robust and sturdy in their safety features, yet still beautifully designed. You will be able to feel their superior quality once you touch them or hold them in your hands. They are surge protectors with all the safety features that every home needs.
Surge Protection
The fully built-in 3-line (L-N, L-PE, N-PE) surge protection with built-in LED light safeguards your expensive computers, smart phones and all other electronics from voltage fluctuations, surges and spikes. The green LED light makes the surge protection function visible and more reliable.
Overload Protection
In the event of power overload, the reliable Double-Break safety switch will trip off automatically to protect your devices and your home. The grey switch on top is designed to be perfectly loose, to ensure it won't get stuck after long time of use. And it acts as a cover for the real safety switch underneath to protect the red switch from accumulating dust or dirt. After one year's testing and several adjustments by our dedicated engineers, we've found the most ideal force level for our Double-Break safety switch.
FCC and ETL Listed & Flame Retardant Material
The entire surge protector passed ETL test, including the outside shell of the surge protector--which surpasses most comparable brands. They are made of flame retardant material and able to withstand temperature up to 1,380℉(750℃), ensuring that the surge protector won't flame even in a big fire.
Smart USB Ports & Heavy-Duty Power Cord
The built-in Smart IC technology USB ports detect your devices automatically and deliver the fastest possible charging speed. The 14 AWG thick cord is made of premium copper to ensure less heat during usage and more power saved.
Keyhole Slots on the Back & Mounting Method
Keyhole slots on the back allow you to mount it to a wall or baseboard horizontally. The mounting steps are:
1. Measure the distance between the 2 keyhole slots with the same direction on the back of the power strip.
2. Punch 2 holes on the baseboard with the distance you just measured and insert two self-tapping screws (M2.5 to M3.5, MIN length 12mm).
3. Put the power strip into the screws and then pull it down a little bit. Please ensure that the screws slide into the smaller holes.