HOLSEM Air Fryer - Your New Instant Pot for Everything
Views: 96 Author: Site Editor Publish Time: 2018-01-06 Origin: Site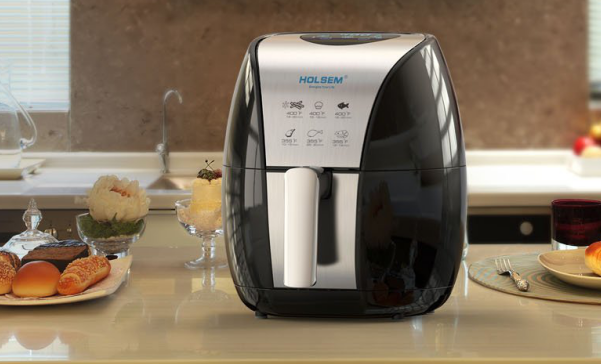 At HOLSEM, we dedicate ourselves to finding various solutions to an easier, smarter, and healthier life style. That's why we come up with this healthy cooking revolution tool - HOLSEM Air Fryer. We deeply understand the health concern of consuming too much oil in all those foods. By using HOLSEM Air Fryer, the air is your new oil. You don't need to sacrifice your appetite for healthy foods any more.
HOLSEM Air Fryer can not only fry your favorite ingredients with full flavor, but also it can bake, steam, grill, roast and unfreeze - it's an all-around multifunctional kitchen tool that can meet almost all your cooking needs. No matter if you want to toast bread/bagel in the morning, bake some cupcakes for deserts, roast chicken for dinner, or even steam salmon fish, HOLSEM Air Fryer can do all of those for you.
What's more, with the rapid air circulation technology, HOLSEM Air Fryer can cook foods faster compared to traditional way of cooking, thus saves you lots of time to enjoy your life. Food is important, so are the other parts of your life. Let HOLSEM Air Fryer make your cooking time easier, and you can enjoy your flavorful life with more time and zero guilt.
All the HOLSEM Air Fryer will include a delicate new cook book providing a wide range of recipes for our customers. Previous customers can also obtain the new cook book by emailing us at customerservice@holsem.com. HOLSEM Air Fryer is your new instant pot for everything. Just with a little of oil, a little of time, and a little of or even no cooking skills, HOLSEM Air Fryer will change your daily meals into a delicious yet healthy menu.